In the fall, Mother Nature shows us how beautiful it is to shed the old, and if we follow suit and let go of our own baggage that weighs us down, we can make room for new love to bloom. You must always be open to love, as you never know when it may enter your life.
Romantic stories and movies show us how unexpected, crazy, beautiful, sometimes tragic, funny, and sexy falling in love can be. They are why I love the genre and will continue to provide you with romantic tales for years to come.
Enjoy a short excerpt from Forever Love:
There was a light rap at the door, and then the director and cast entered the room. They were laughing and joking. Everyone but the last man to appear was happy to be there. One of the producers introduced the director, Chris Whyte, known for his flair for filming dramas. Chris then introduced Davi to the cast. She recognized them all, including Quinn Thomas.
Quinn and Davi stared at each other. For an instant, time stood still. Davi's heart pounded as she waited for Quinn's reaction, a sign that last night was not a mistake. Quinn's face was emotionless as his gaze burned into her. Then Quin's face broke out into a thin smile as he walked over to Davi and offered her his hand.
"It's nice to meet you, Davina. I read your book. It was so believable."
Davi felt the sting from his comment. "Thank you," she said softly. So, this is the way it's going to be. You told him you only wanted a one-night stand, Davi. It looks like you got it. He's moved on.
5 Romantic Movies to Watch This Fall
1. When Harry Met Sally — Can a man and a woman who find each other attractive ever truly be platonic friends? This romantic comedy follows Harry and Sally, who develop a close friendship, but fear that sex would complicate their relationship.
2. You've Got Mail – This classic romantic comedy stars Tom Hanks as leading man Joe Fox and Meg Ryan as Kathleen Kelly. Set in autumn in New York City, Joe and Kathleen are business rivals from competing bookstores who unexpectedly enter an online relationship in a chatroom.
3. Practical Magic – This romantic comedy follows Sally and Gillian Owens, a pair of modern-day witches whose inherited powers come with a curse; the men they love are doomed to an untimely death. Can these two sisters use their magic to defeat the family curse and find lasting love?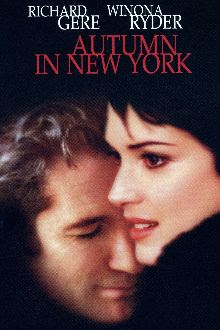 4. Autumn In New York – This Romantic Drama stars Richard Gere, who plays Will Keane, an older restaurateur and "ladies' man." Will meets the beautiful yet tragically ill, Charlotte Fielding, played by Winona Ryder. When Charlotte discovers she has only a year to live, the two embark on a joyful and tragic love story.
5. Silver Linings Playbook – This funny and, at times, heartbreaking romantic comedy/drama tells the story of Patrizio "Pat," a man with bipolar disorder recently released from a psychiatric hospital. He moves back in with his parents. He is hell-bent on winning back his ex-wife. Pat meets a young widow, Tiffany, who offers to help him get his wife back if he agrees to enter a dance competition with her. This critically acclaimed movie earned Jennifer Lawrence an Academy Award and is a must-watch this fall.
Here's a Hot and Spicy Recipe- Beef Tenderloin with Red Wine Sauce